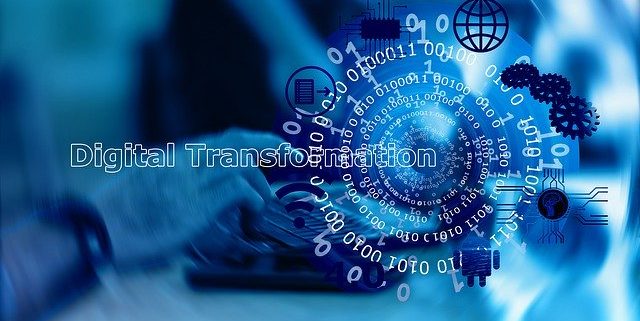 Sixteen months or so ago, we published a post about digital transformation. In that post, we suggested this:
One of the most constructive things we might do is ignore all the commotion about digital transformation. While organizations might need to transform (more likely they need to adapt and evolve), digital transformation has become all but indecipherable because it can't be defined consistently. And it can't be defined consistently because it's too broad and, so, too vague.
Since the phrase hasn't gone away, we decided to re-examine the notion of digital transformation, to look at it a little more deeply than we might have the first time. More specifically, since we've been communicating digitally for two or three decades, we wanted to figure out if there's anything besides jargon and marketing hype going on here.
Butting Agendas
Two objectives seem to be converging and conflicting here. Objective #1 is to look at thing from the perspective of the prospective buyer; that is, insurers are facing pressure to:
Be more customer-focused
Be more responsive to policyholders and prospects
Provide greater access to policy- and claim-related information
Provide more options and opportunities for self-service.
But they're facing the sobering realities of Objective #2 — getting their core systems to function at levels sufficient to achieve Objective #1. If products remain difficult to change, if integrations continue to be a challenge, and if BI isn't meaningful enough to improve operational decision-making — then customer behavior, responsiveness, accessible information, and self-service capabilities become tough nuts to crack.
Those brittle systems force insurers to try to bolt digital communication capabilities onto them, rather than designing their systems — or buying systems that are built — around digital communication. Case in point: When we wrote Finys, distribution channels were our focus. Maybe we should have called what we were doing digital transformation. We didn't. But it means the system is designed to provide a completely digital experience — to operate from the perspective of its users, regardless of who's using it — to agents, to policyholders, to TPAs, and to anyone in any authorized role in the insurance company.
By Any Other Name
Maybe instead of digital transformation, what's really going on is core modernization with the addition of more digital capabilities.
It doesn't matter what we call it. What matters is that many insurers need to get it done.
https://finys.com/wp-content/uploads/digitization-4751659_640.jpg
427
640
Mark O'Brien
https://finys.com/wp-content/uploads/finys-logo-color.png
Mark O'Brien
2020-02-03 07:00:57
2021-09-24 09:43:18
Digital Transformation: Part Two